News
Latest updates from the campaign:
Wednesday, April 18, 2018 12:48 AM
Visiting With UNC Asheville College Republicans
On Monday evening I had the opportunity to join the UNC Asheville chapter of the College Republicans. This is a very smart, and proactive group of young Americans who are helping to shape our future. I look forward to great things from this group!
---
Tuesday, April 10, 2018 11:41 PM
Upcoming Events
Below is a list of events that Ira will be attending. Others may be added as they come up.
April 12th - Buncombe County Republican Women's Candidate Forum
April 16th - UNC Asheville College Republicans Monthly Meeting
April 19th - Gaston County Republican Women's Candidate Forum
April 21st - 10th District GOP Convention in Gastonia
April 22nd - Concerned Bikers Association Meet the Candidate
May 3rd - Catawba County Republican Women Monthly Meeting
Please reach out for more information on attending one of these events or if you are interested in door knocking and phone calling! We are always on the move!
---
Friday, April 6, 2018 11:05 PM
Views: Short Version
There are detailed descriptions of my views under the issues tab, but due to recent inquiries, I will outline a few of the basics.
- Pro Gun
-Pro-Life
-Christian
-Build the Wall
-No Amnesty
- Cut Federal Spending
-Reform Government Programs
-America First
-Common Sense, Not Political Correctness
---
Wednesday, March 28, 2018 3:51 AM
Click the title above to view the video. Please feel free to share, people need to know the truth!
---
Wednesday, March 14, 2018 2:06 AM
Gun-Free Zones Hurt Law-Abiding Citizens!
Restricting the rights of law-abiding citizens does help in one way..... it helps violent criminals take advantage of us!
"Over 90% of public mass shootings take place in "gun-free zones" where civilians are not permitted to carry firearms."
https://www.heritage.org/school-safety
---
Tuesday, March 6, 2018 9:47 PM
Catawba County Republican Convention
We are very excited to be speaking to and meeting with the great people of Catawba County! Event starts at 9:15 at the old courthouse in downtown Newton.
30 N. College Avenue, Newton NC 28658
---
Sunday, March 4, 2018 11:00 PM
Buncombe County Republican Convention
The support and passion of the people in Buncombe County yesterday was amazing! Tremendous people, thank you so much for allowing us to join you.
---
Wednesday, February 14, 2018 9:26 PM
Ira on the Radio
Check out Ira's radio interview from February 13th at the link below. Scroll to the 30 minute mark to hear what Ira had to say!
https://wpvmfm.org/show/world-according-mark/
---
Sunday, February 11, 2018 4:19 PM
McHenry Has To Go!
Most of you have heard of Maxine Waters by now. That's right, the socialist-supporting, race-baiting, historically-corrupt Maxine Waters. She does, however, have one supporter in her corner. None other than our very own, Patrick McHenry.
You'd think someone who claims to be conservative would despise her, but instead he had this to say, "[…] I've got a very good relationship with and have been able to pass serious legislation with Maxine Waters. I've got enormous respect for Maxine; I think she's smart and capable. I think we've got opportunities to do more in the future. And I just like her. […]
Know who you are voting for on May 8th! Our country is at stake!
http://dailyhaymaker.com/?p=19467
---
Thursday, January 25, 2018 12:51 AM
We Are Ordering More Shirts!
We are ordering another batch of shirts! You can reserve yours by clicking the "contribute" button and making a $25 donation. Be sure to let us know what size, black or red, and where it should be sent.
---
Wednesday, December 13, 2017 8:19 PM
Christmas Play
Enjoyed a wonderful Christmas play at Lyle Creek Elementary on Tuesday night. The students put on a terrific show.
---
Wednesday, December 6, 2017 7:14 PM
Huge Win Today
Huge win today for America and one of our greatest allies. OUR President announced the recognition of Jerusalem as Israel's capital.
Of note, the only time all religious groups have been afforded the opportunity to completely move around the holy sites freely, has been under Israeli rule.
http://www.foxnews.com/politics/2017/12/06/trump-officially-recognizes-jerusalem-as-israels-capital-orders-us-embassy-move.html
---
Friday, December 1, 2017 10:06 PM
December is National Impaired Driving Prevention Month
In the midst of the holiday season we are sure to see a friend or family member who has had too much eggnog. Lets keep our friends, family, and everyone on the road safer by preventing impaired driving. The few extra minutes to call a cab or friend for a ride is an easy choice over the few seconds it could take to turn holiday joy into a tragedy.
---
Thursday, November 23, 2017 1:01 AM
Happy Thanksgiving!!
I would like to wish everyone a Happy Thanksgiving Day. I hope we can focus on being thankful for our families and the opportunities we have in this great nation. Below is the final paragraph from Abraham Lincoln's 1863 Thanksgiving Day proclamation. I think it is fitting since today we also have some civil unrest, though very different. I am confident we can continue to push forward and prosper together if we trust in God, Love one another, and remain thankful for the things we have.


"It has seemed to me fit and proper that they should be solemnly, reverently, and gratefully acknowledged, as with one heart and one voice, by the whole American people. I do therefore invite my fellow-citizens in every part of the United States, and also those who are at sea and those who are sojourning in foreign lands, to set apart and observe the last Thursday of November next as a day of thanksgiving and praise to our beneficent Father who dwelleth in the heavens. And I recommend to them that while offering up the ascriptions justly due to Him for such singular deliverances and blessings they do also, with humble penitence for our national perverseness and disobedience, commend to His tender care all those who have become widows, orphans. mourners, or sufferers in the lamentable civil strife in which we are unavoidably engaged, and fervently implore the interposition of the Almighty hand to heal the wounds of the nation and to restore it, as soon as may be consistent with the divine purposes, to the full enjoyment of peace, harmony, tranquillity, and union."
-Abraham Lincoln
---
Friday, November 17, 2017 9:27 PM
Where do we cut spending?
I called Patriot radio's news show, Breitbart News Daily, to discuss questions about where we can cut spending. I pointed out that a review of government programs is in order. Our government has grown so tremendously, and we have duplications throughout the system. We need to conduct a complete audit and identify redundancy, inefficiency, and/or obsolete programs. Then they need to be restructured or just cut completely.
We also need to start pulling funding from amnesty programs and sanctuary cities. After that, we need to require proof of citizenship for enrollment in federally funded programs. As an example, the WIC program, which is federally funded through the Department of Agriculture to the tune of $6 billion, requires no proof of citizenship to enroll. If people want to donate money to support illegal aliens in need, that's their choice, but OUR tax dollars are not the answer!
---
Friday, November 10, 2017 7:43 PM
Thank you Veterans!!!!
In advance of Veteran's Day this weekend, I want to go ahead and thank all those who have served our great nation!
Check out the link below for a list of restaurants offering free meals and other discounts to veterans.
https://militarybenefits.info/veterans-day-discounts-sales-deals-free-meals/
---
Thursday, November 9, 2017 4:21 PM
Liberal students love tax plan when they don't know it is Trump's
You'll love this video if you haven't already seen it. More proof that OUR President is trying to do good things for this country but the liberal media misleads people to the extent that the mere mention of his name turns some away. Be informed people! Let's make this next election count! Put people like myself in the Capitol Building so we can get things done!
---
Friday, October 27, 2017 9:06 PM
Always great to see an institution appreciate our veterans and give thanks! Much respect to the players and coaches for this display of class.
---
Thursday, October 26, 2017 11:04 PM
It Is Time For a Fair Deal
It is time for the ineffective establishment and the good ol' boys club to go. People are sick of the "business as usual" attitude in the Capitol Building. We are tired of town hall meetings that give us a "me vs you" sensation and only happen when an incumbent has a challenger. We have got to start changing the way we vote if we want to see changes in Congress.
Career politicians who continue to be elected simply because they drown their opponents in money are killing American democracy. Personal agendas, special interest obligations, and party leadership ambitions have no place in a true representative government. Too many individuals and institutions in government have forgotten the label public servant and what it means to truly be a servant to the people.
Our President is doing his best to truly "Make America Great Again." He is trying to secure our borders, build our military back up, lower our taxes, rollback onerous regulations, and get rid of the disaster that is ObamaCare. He needs members of Congress who are going to help him do this effectively and permanently.
I will work with our President to bring these needed bills to the floor. I can dedicate all of my time and effort to your concerns and these national issues because I have no obligation to entertain lobbyists and special interest groups. There is absolutely no reason that hundreds of thousands of dollars and up to 85% of a representative's campaign funds should come from outside their district and state.
I will work hard to put an end to the practice of fixing government incompetence by asking you for more of your pay check. No more asking the working class of America to pump more and more money into programs that are setup to be taken advantage of by people unwilling to work. Let's get rid of amnesty for illegal immigrants and require federal programs to document proof of legal status. I'll vote to remove congressional exemptions from the laws THEY pass; specifically, in regard to health insurance. Maybe if some members could see first-hand how bad some of these programs are, they will work harder to improve or get rid of them.
I have lived in the 10th district. I have gone to school in the 10th district. I have actually held a job in the 10th district outside of campaigns and politics. I have a great feel for the mood of the 10th district, but this DOES NOT mean I can assume without listening. I will be a true representative, a true public servant, and I will be visible and accessible to the people in the district.
It Is Time For a Fair Deal! Let me help make the changes you are asking for. Vote Ira Roberts on May 8th, 2018!
---
Tuesday, October 17, 2017 8:53 PM
Campaign Update
D.C. and Philadelphia this weekend to speak with some super smart folks about policy shaping. Back in the district the following weekend to knock on doors and meet with more great people in the 10th district!
---
Sunday, September 24, 2017 11:23 PM
Catawba County GOP Fall Dinner
Had an amazing time at the Catawba County GOP Fall Dinner last night! Lots of great representatives of our community in attendance.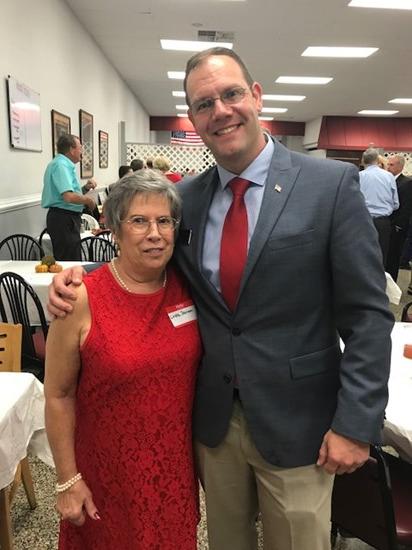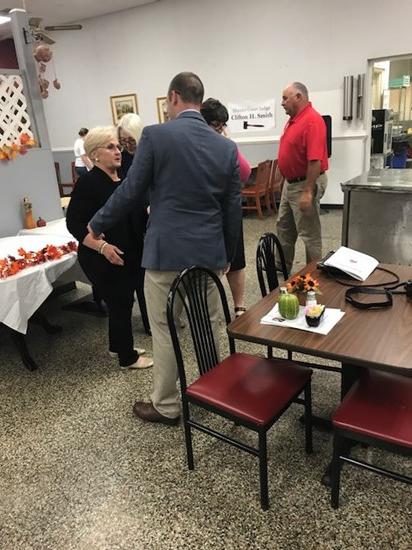 ---
Thursday, September 21, 2017 8:12 PM
Constitution Day
Huge recognition to Mountain View Elementary school for putting together a presentation in support of Constitution day!
I watched America's future generations voluntarily come together after school hours to sing the National Anthem and read from The Constitution! Truly amazing; this is the stuff the news should be covering! (more photos under the "photos" tab)
---
Thursday, September 21, 2017 5:47 AM
Just sharing a proud moment
Yours truly, with former President George W. Bush.
---
Monday, September 11, 2017 11:40 AM
September 11th
We will never forget the tragic events of September 11th, 2001. Let us always remember that freedom is never free, as we thank those who keep us safe every day.
---
Saturday, August 19, 2017 11:15 PM
Twitter
Be sure to follow Ira on Twitter @IraRobertsNC10 for periodic updates and photos of the campaign trail!
---
Friday, August 18, 2017 1:37 PM
Newton Soldiers Reunion Parade
I had a great time yesterday meeting some wonderful people at the Soldiers Reunion parade in Newton. It was an absolute pleasure to discuss issues and listen to concerned citizens in the 10th District! More pictures available in the photo gallery.
---
Tuesday, April 18, 2017 9:38 PM